You've either done a Self- Assessment, or you've had a Risk Assessment done by a professional to establish your Baseline. You have a better handle on what your risks are and where your weaknesses are. You've gotten security awareness training for your employees, and have email security in place to further reduce the risks they'll invite in an attacker.
Now, it's time to secure your perimeter(s) from direct attacks:
Firewalls Engineered for the Cloud
Traditional security strategies and firewalls were never intended for today's cloud-integrated infrastructures and workloads. They can't give branch offices direct access to your cloud applications. They often don't support cloud-friendly consumption models, and they don't have the scalability and flexibility that cloud-hosted applications demand. Barracuda CloudGen Firewalls and Web Application Firewalls are the industry's first solutions purpose-built for securing cloud-connected networks. They protect all your users, applications, and data – regardless of what your infrastructure looks like. They ensure secure and reliable connections among multiple sites on premises and the cloud with consumption-based pricing, saving you money on infrastructure costs.
Delivering unparalleled security, connectivity, and automation
Today, network firewalls must do more than just secure your network. They must also ensure you have uninterrupted network availability and robust access to cloud-hosted applications. Barracuda CloudGen Firewall is a family of physical, virtual, and cloud-based appliances that protect and enhance your dispersed network infrastructure. Scalable centralized management and an advanced security analytics platform help you reduce administrative overhead while defining and enforcing granular policies across your entire WAN. Barracuda CloudGen Firewall is the ideal security and connectivity solution for multi-site enterprises, managed service providers, and other organizations with complex, dispersed network infrastructures.
Your network, secured
Shut down the advanced and zero-day threats that bypass traditional, signature-based IPS and antivirus engines with Barracuda CloudGen Firewall's tightly integrated firewall technologies, including application profiling, intrusion prevention, web filtering, advanced threat and malware protection, antispam, and full-fledged network access control.
Your business, connected
Reduce line costs, increase overall network availability, improve site-to-site connectivity, and ensure uninterrupted access to applications hosted in the cloud, thanks to Barracuda CloudGen Firewall's highly resilient VPN technology combined with intelligent traffic management and WAN optimization capabilities.
Click for Data Sheet on NextGen Firewalls: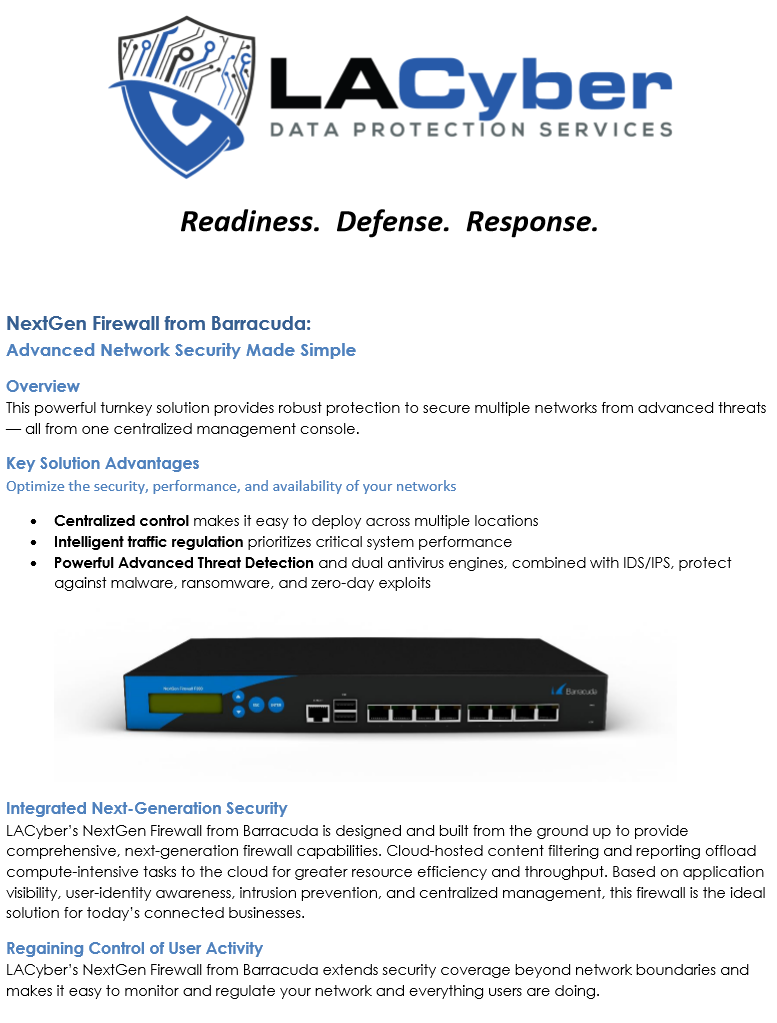 Click for Sizing Guide on NextGen Firewalls: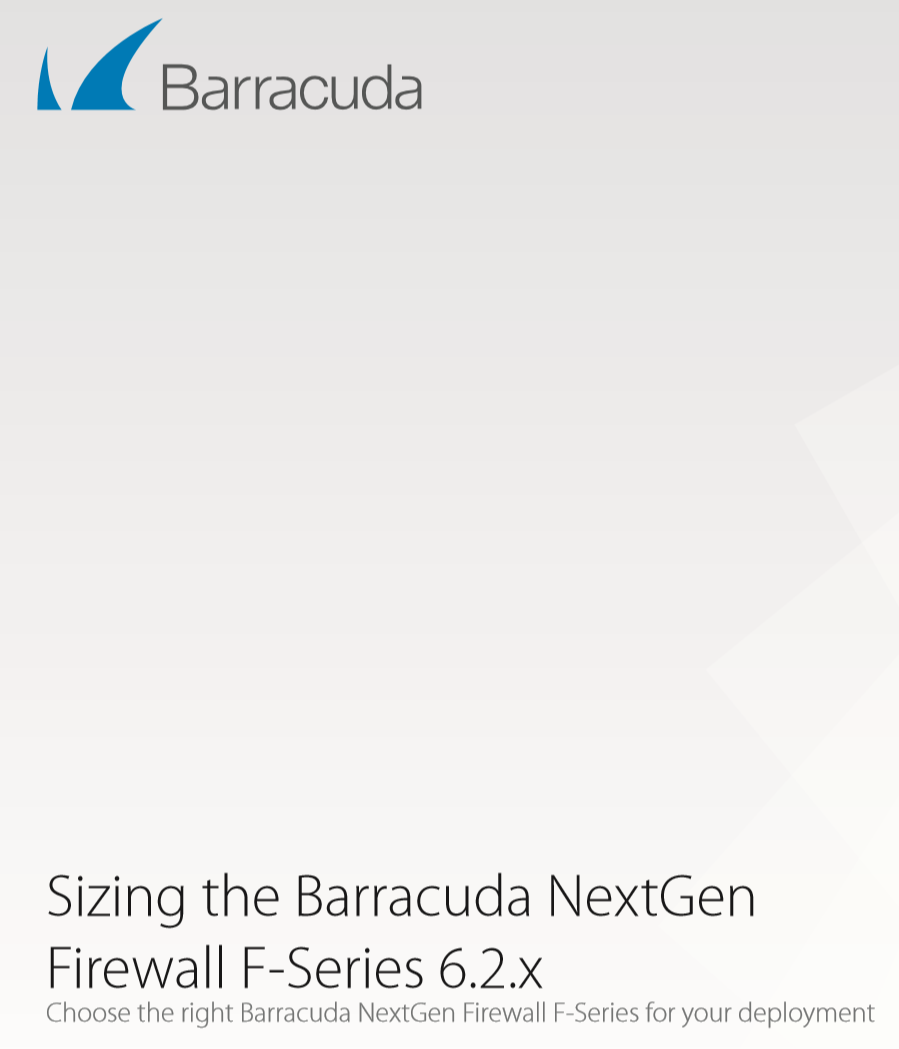 Click for Data Sheet on CloudGen Firewalls: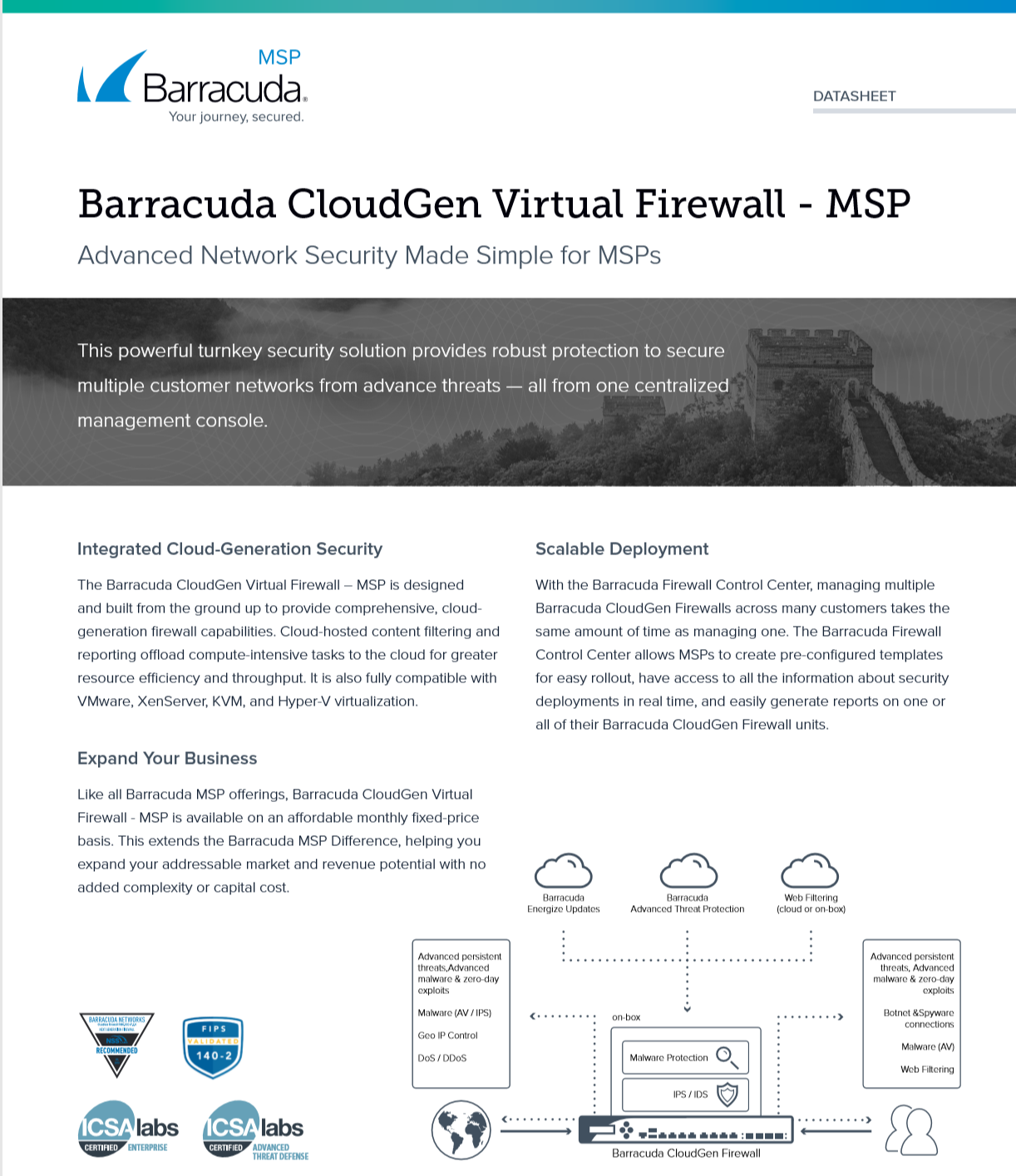 Click Images for Full Size Documents
Hate Reading?
I'd rather watch a video on CloudGen Firewalls:

Contact Us Below for More Information