Backup Tape Vaulting & Rotation Services
The largest enterprises and those organizations that create HUGE volumes of data understand that the most cost-effective method of backing up is via tape. YES – via tape!
Many believe that backing up to The Cloud is the way to go, and in some cases that is correct. Cloud storage may seem and initially be cost effective. But there are hidden "Gotchas" too. Some examples:
Assumption that cloud apps are 'backed-up'. Not necessarily.
Cloud apps that ARE backed up are typically 'de minimus'. For instance: 24 hour RPO, and only 30 day retention.
Restore SLA's may be measured in days or weeks.
Restoring data from the cloud can be extremely expensive.
Assumption that clouds never experience outages.
Assuming clouds are invulnerable to malware attacks.
Here are some facts about Tape And Cloud:
The Cloud is actually driving increased use of tape for backups.
The largest enterprises & Big Data Creators are using a 'Tape AND Cloud Strategy' to protect data & save cost.
As data ages, its' value and importance of RTO is reduced. Hence, storing it on and recovering it from tape becomes both operationally sound and extremely cost effective.
The sheer capacity growth and continuous re-design have made 8th Generation LTO Tape Technology unbeatable in terms of cost-effectiveness, performance, speed and long-term protection.
Many Cloud hyper-scalers use tape 'behind the curtain'; some have thousands of tape libraries. They've discovered economic & reliability benefits of tape – the same ones enjoyed by large enterprises, Big Data creators and IT organizations.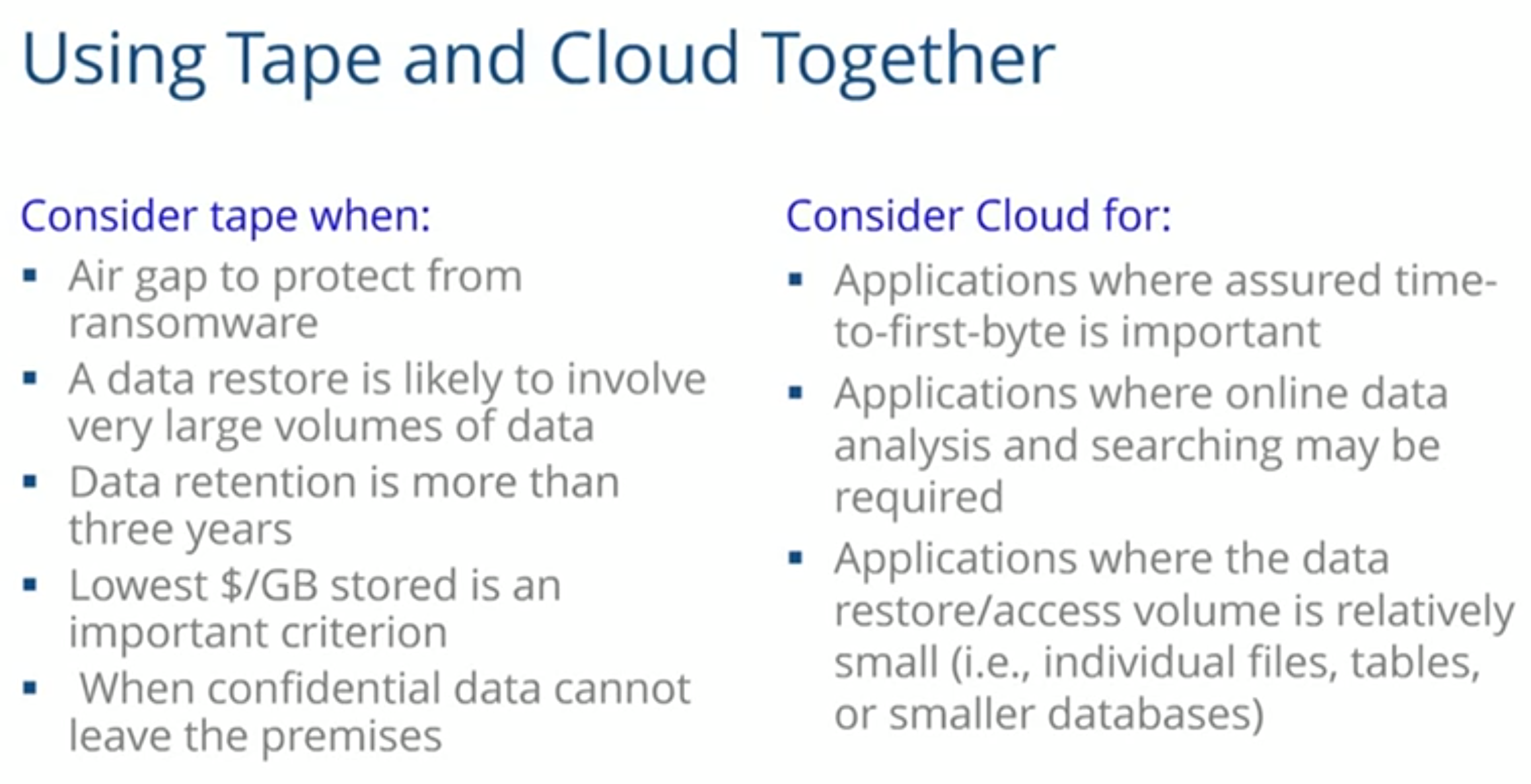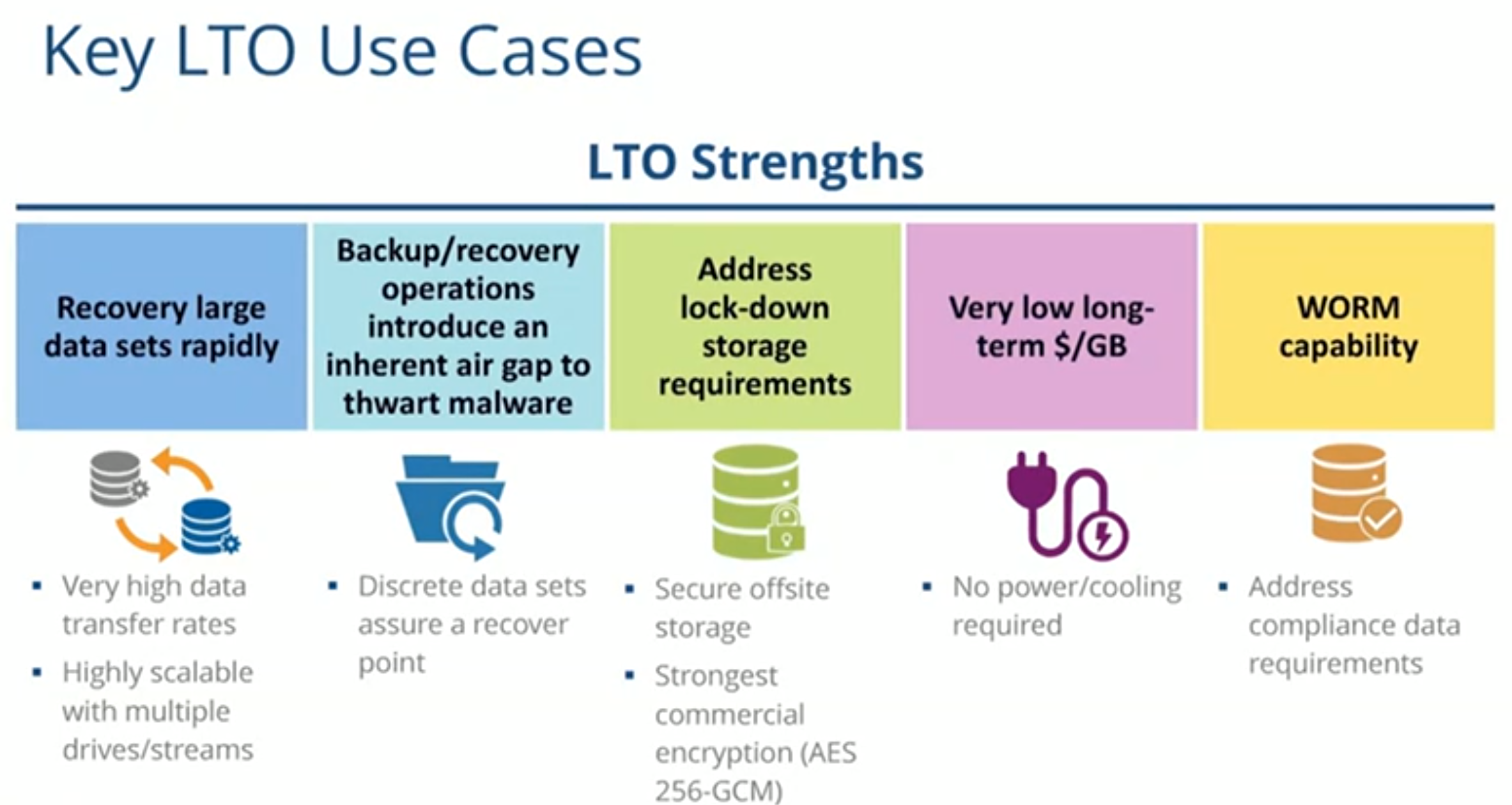 Since 1998 Lincoln Archives, Inc. / LACyber has been vaulting and rotating backup tapes for many WNY organizations. Our off-site, unmarked, high-security tape storage vault facility is climate controlled with very strict tolerances for temperature and humidity. Our vault also has a FM-200 Dry Fire Suppression System, as well as an alarmed, monitored, video surveilled security system you expect with Lincoln. Our uniformed security professional's pick-up your back-up tapes on a regular schedule to quickly get fresh data off-site and minimize risk of lost data. At the same time, we will deliver older ones to be re-written. See why thousands of businesses depend on us for our security measures.
Key Features and Benefits:
Secure Transport - Your backup tapes are securely transported between your facility and ours inside our satellite tracked, locked vehicles, in specially- designed, locked containers.
Secure Facility - Our vault facility is climate- controlled and features FM-200 Dry Fire Suppression System, key-pad entry, video monitoring and security alarms.
Ensures Business Continuity - In the event of disaster our backup tape vaulting will help ensure the continuity of your business by providing reliable copies of your data.
Saves Time and Money - No more having to allocate staff hours to drive to and from the off-site backup location. Our service helps you save time and money and allows you to predictably budget the entire process.
It's not enough to simply back up your data. Unless your data is also stored at a remote site, environmental or man-made disasters could put both your data and the continuity of your business in jeopardy.
Choosing to handle the off-site backup tape site location to rotate your tapes? It's simply not the best use of their time or your budget. That's where we can help.
We'll work with you to create a schedule and budget that meets your needs and then manage the on-going pickup, delivery and rotation of your tapes.
Hate Reading?
I'd rather watch a video on
The Value of Tape:
How much does the service cost?
* Backup Tape Vaulting & Rotation Services (24 month agreement), clients in Erie County or Niagara County. If you're already a client of any Lincoln Family of Companies, with any contracted recurring service your (bundled) pricing is discounted 10% off listed pricing shown:
Monthly Plan, 10 Cases Vaulted w/ 1 Case Rotated in&out, w/ Local Delivery & Pickup at same time (1x per month, weekday svc.):
$239.00 / Month
Weekly Plan, 10 Cases Vaulted w/ 1 Case Rotated in&out, w/ Local Delivery & Pickup at same time (1x per week, weekday svc.):
$395.00 / Month
Daily Plan, 10 Cases Vaulted w/ 1 Case Rotated in&out, w/ Local Delivery & Pickup at same time (1x per weekday svc.):
$965.00 / Month
Different Needs/Plans (contact us for pricing): info@LA-Cyber.com
Contact Us Below for More Information